Our Pastor
Pastor
David E. Wilson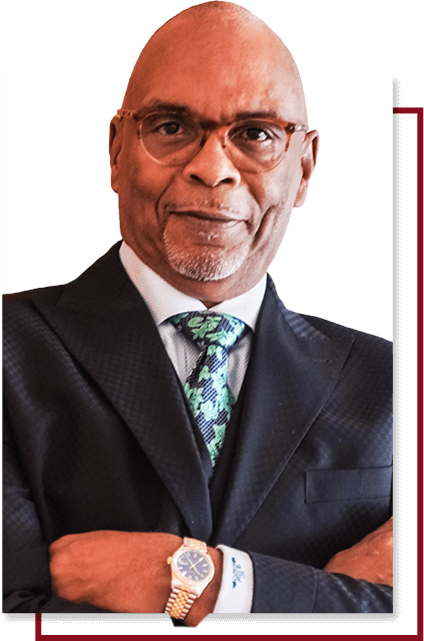 Rev. David E. Wilson is a native of Wichita, Kansas. He is the third son of Ms. Evelyn B. Wilson and Mr. Leronzo L. Wilson.

Rev. David E. Wilson was educated in the Wichita public school system, attended Wichita State University and Bishop College in Dallas, Texas where he received a BA in Religion.

Rev. Wilson is married to Vernita Deloris Simmons where out of that union they have two daughters, Lola Natisa Wilson and Da'Nita Roshaun Wilson-Harris (Steven).

Rev. David E. Wilson is the founding Pastor of the Greater Cornerstone Baptist Church in Dallas, Texas where he has served as Pastor/Teacher for 32 years. Greater Cornerstone began with two families in 1986 and has experienced enormous growth, by the Grace of God, since her inception. Rev. Wilson's passion for preaching the Word of God and his commitment to the Kingdom of God carries him all over the country.

Rev. Wilson accepted Christ at an early age through the ministry of Saint Paul A.M.E., Wichita, Kansas. He acknowledged his call of God to preach through the ministry of Strangers Rest Baptist Church, Wichita, Kansas.

Rev. David E. Wilson was elected on December 9, 2018 as the 4th President of the Interdenominational Ministerial Alliance of Dallas and Vicinity, the oldest African American Faith Based non-profit organization in Dallas, where he previously served as Vice President (20yrs). He also serves as 2nd Vice Moderator of the Dallas Regional District Association and President of GCBC Inc.

Rev. Wilson served as the Corresponding Secretary, Editor of the Lantern, and Office and Property Manager for the National Baptist Convention of America International, Inc. (15yrs), Assistant to Director of Congress and Christian Workers of NBCA (10yrs) and 3rd Vice President of the Dallas Baptist Ministers Union (6 yrs). He also served on the City of Dallas Board of Adjustment (8yrs).

Pastor Wilson is a lover of mankind and a nationally sought after Public Speaker and Revivalist; leading one of Dallas' most vocal and powerful churches.